Pet ID Tags form an integral part of shaping your dog's personality. It is not just the name but also the way it is conveyed to others is also important. Pet ID Tags are a concept we have known almost forever. Even today they don't seem to lose their utility and charm over all things dogs. The problem comes when you have to dive into the sea of the kind, shape, colour, brand and so on of finding what fits your dog perfectly.
I have made it simple. Below is the list of some of the best awesome Pet ID Tags divided by the best brands available in the market along with their links out of the whole lot for you to decide for your sweet and cute fluff ball.
Leashboss Pet ID Tags
The company, founded in 2013, is determined towards creating and bringing innovative products for you. The founders of the company, being proud dog parents themselves, design and create dog-friendly products keeping in mind both you and your dog. The motto is to make life easy and peaceful for the dog and the owner. The company has earned its name due to the range of products and more importantly because of the quality of the products it offers.
1. Double Sided Stainless Steel Leashboss Dog ID Tag
Key Features:
The dog ID tag comes with extra space of double-sided engraving which can fit up to 10 lines in total, five in the front and five at the back.
It gives you ample space to fill in all the important information that you wish to put.
Made up of stainless steel, makes the tag durable and strong. You are sure not to lose it while your dog goes out and plays.
The dog tag is capable of deep engraving using a deep diamond engraving process which will not wear down or rub-off, therefore it stays strong and legible for a long period.
Depending on the size of the dog, this tag comes in various sizes as well as three different designs; bone, round and heart to chose from.
For product link – Click here
2. Collar Pet ID Tag for Adjustable Nylon Dog Collars
Key Features:
The tag is made up of stainless steel with 0.06″ thickness, makes it one of the thickest and most durable pet id tags.
Rigids shaped tags are very uncomfortable for your little one, therefore this tag is curved in its shape to perfectly fit the neck of your pet and provide the required comfort.
The tag is made for adjustable nylon tags which are easy to slide on and off.
You need not worry about your dog's tag falling off anymore.
Made in partnership with Boomerang Tags, it is designed to work on any nylon adjustable collars.
If you looking for a comfortable, durable and quiet tag for your dog, this is a perfect choice.
For product link – Click here
3. Slide On Pet ID Tag
Key Features:
This id tag is made especially for single-ply nylon, non-clip collars for 1/8″ thick belt size.
Similar to the above, the tag is curved in its shape as well to perfectly fit your dog's neck and not cause discomfort.
Leashboss tags are famous for its deep diamond engraving on its stainless steel tags. Due to which they are strong and durable and do not wear down and last longer.
Since the tags are made especially for buckle collars, it is guaranteed that the tags won't fall off.
For product link – Click here
4. Slide On Pet ID Tag
Key Features:
Made especially to fit leather and double thick collars.
Available in sizes; XS, S, M and L.
Custom made up to five lines to the details you want for your dog which is engraved with a special deep diamond engraving process.
The tag stays in place on your dog's neck and hence there is no scare of it falling off.
This tag comes with a 5-year manufacture warranty also called the "boss promise" against any defect or product issue.
For product link – Click here
If It Barks Pet ID Tags
Looking to personally design and customise you pet's accessories?
If It Barks is perfect for you.
The people at If It Barks are full of creative are motivated to bring your pet the design that suits its personality, individual style and need. They offer dog collars, leashes and pet ID tags in a variety of colours, sizes and styles. You can customize the whole product to you and your dog's liking.
Get set go!
The options are limitless.
If It Barks Stick Dog Pet ID Tag
Key Features:
If It Barks tags are a great combination of critical contact information and humour.
You have a wide variety of fun and quirky tags to chose from for your little pet.
The back tag can be personalised to add your name, contact information, address and literally anything you want.
Made of high-quality stainless steel which does not rust and therefore fit for all usage.
They are made using high fibre laser technology which makes them easy to read and make sure all details are incorporated in the tag.
The dog tags include a split ring which can be attached to any dog collar.
They are available in two sizes – medium (1 inch) and large (1.25 inch) and weighs around 0.5 ounces.
For product link – Click Here
Providence Pet ID Tags
Providence Engraving, LLC is a company that specialises in laser engraving, UV and other printing products at very affordable prices. They offer a wide range of accessories for your dog to get it engraved for your pet. Here are some options to help you find the best fit.
1.
Swarovski Crystal Pet Tags
Key Features:
Providence tags are engraved and custom made in five colours to chose from.
The tags are set in anodized aluminium.
Further, these bone-shaped tags are studded with 26 Swarovski diamonds which is sure to make your dog stand out.
The crystals are set in holes and bonded with industrial glue.
The name of your pet is visible in bold in the front and you have almost four-line spaces to insert all information on the back.
Make your dog runway ready!
For product link – Click here
2. Providence Stainless Steel Pet ID Tags
Key Features:
Available in various shapes and regular or small sizes to fit your dog.
The stainless steel tag is made to fit harsh use and even the most active dogs which make it durable.
Engraving is done using fibre laser which results in legible text and durability.
For product link – Click here
3. Providence Slide On Pet ID Tag
Key Features:
Made up of anodized aluminium, the tag is available is nine vibrant colours and three sizes to choose from.
They are not easy for your dog to lose as they slide on very easily and stay put in their place.
Very silent tags and they do not jingle as well.
For product link – Click here
Go Tags Pet ID Tags
I am sure all dog parents and lovers must be aware of "GoTags".
A company with the only mission to provide quality for your pet. It aims to bring products that are simple yet functional as well as essential and suited for everyday wear for your pet. Now you don't have to be afraid to carry your four-legged friend on any adventure or gathering. Rest assured they will come back to you safely.
1. GoTags Superhero Pet ID Tag
Key Features:
A superhero tag for your superhero friend.
Custom made to your choice providing up to 4 line space to put in the information about your dog.
The tag is made out of solid brass and UV curved paint which makes it durable and lasts you a long time.
For product link – Click here
2. Embossed Pet ID Tag
Key Features:
These tags are made out of stainless steel with a mirror-like finish.
It is made to last and has four-line space to fill in the relevant information.
The cute embossed designs are sure to make your dog stand out.
Permanent laser engraving makes it legible and easy to read.
For product link – Click here
3. Swarovski Crystal Paw Print Pet ID Tag
Key Features:
The tag is made up of authentic Swarovski crystals and stainless steel to give it that shiny look you want for your pet.
The steel makes it durable and elegant looking.
Comes in two sizes; Small and Regular and six beautiful colour variations.
The shiny little paw design is sure to get everyone's attention.
For product link – Click here
4. Pet ID Tag with Silencer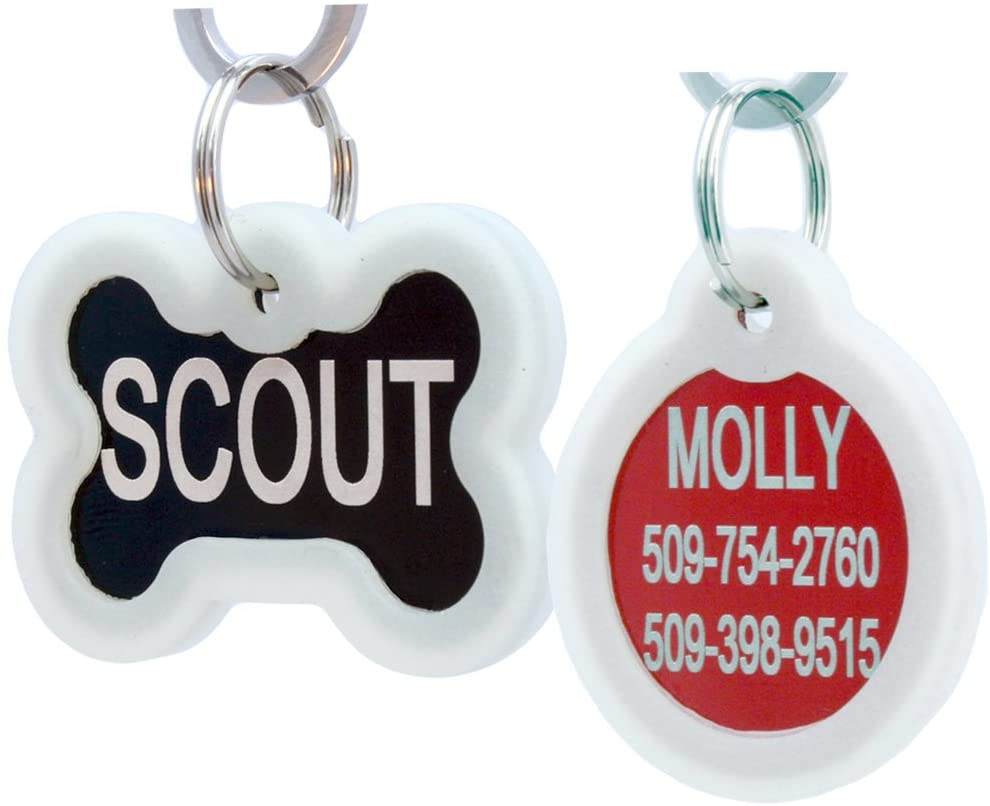 Key Features:
These tags offer a range of colour and sizes with up to eight lines of text customization.
Made up of anodized aluminium which gives it strength, lustre and keeps it lightweight.
Comes with a glow in the dark tag silencer to stop all the jingling you have been disturbed by.
The silencer is made of rubber which keeps it from wearing and thus making it durable.
For product link – Click here
Road ID Pet ID Tag
Road iD is a company motivated to save dog lives, reunite missing dogs with family and provide peace of mind by making silent dog tags. Motivated by #RoadiD stories, they inspire to make the world a better place for dogs and dog parents.
Custom Military Dog Tag
Key Features:
These custom military styles blend support with style and comfort.
Highly durable.
For all army men and army dogs, these form a perfect fit.
Perfect for army trained dogs as it is long-lasting and take any wear and tear.
For product link – Click here
Conclusion
I hope the above-mentioned suggestions are helpful and guide you in deciding what you want your pup to wear as his tag. Today microchipping your pet is not uncommon. However, even microchipped dogs need to be tagged to be found when lost. Let me know of any further suggestions and brands of Pet ID Tags and what you prefer for your dog.
One request?
I've put so much effort writing this blog post to provide value to you. It'll be very helpful for me, if you consider sharing it on social media or with your friends/family. SHARING IS ♥️