For ages, dogs were the best companion of hunters. With their agility, they can go anywhere and bring back hunted animals and birds to their owners. Labrador, Golden Retriever, and Chesapeake Bay retriever are some of the best types of dog for this job. However, these dogs don't know how to retrieve it when born. They need an ample amount of training.
In this task, a training bumper can be very helpful. The bumper is an alternative to dead animals and birds. It gives the dog a brief understanding of how to do the retrieve task. Here are few best retriever training bumpers available on Amazon.
This training bumper comes in bright lemon colour. For this reason, at the beginning stage of the training period, the dog can easily spot it. Due to this arousing colour of the bumper, all dogs get encouraged to bite it. Most retriever dogs love to fetch it when thrown away. For this reason, it is a perfect bumper for retriever training. They will go anywhere to bite this bumper.
Strong nylon material has been used for this bumper. This same material is often used in hose pipe making. From the appearance, it looks soft. However, it is quite durable. The bumper is handmade with all sanitation processes in mind. It is quite safe for the dog and doesn't cause any allergic reaction to the dog. The length of this bumper is only 9.8 inches and it weighs only 4 ounces. The weight of this bumper makes it float in water.
The material of this bumper is plastic. It doesn't matter how strong the dog's teeth is he won't be able to chew it off. For this reason, the dummy can withstand rough treatment. Disinfecting this bumper is easy. Just washing it in water makes it cleans. Therefore, the dog doesn't get sick when they play with this bumper.
The bumper is 7.25 inches long and weighs around 5 ounces. The owner can easily through this bumper long-distance and train the retriever dog easily. The perfect weight of this bumper keeps it above the water and let it float. It is available in three colours. The orange colour bumper is highly visible and the dog can easily spot it from far away. However, black & white and pure white bumpers for advanced training purposes only.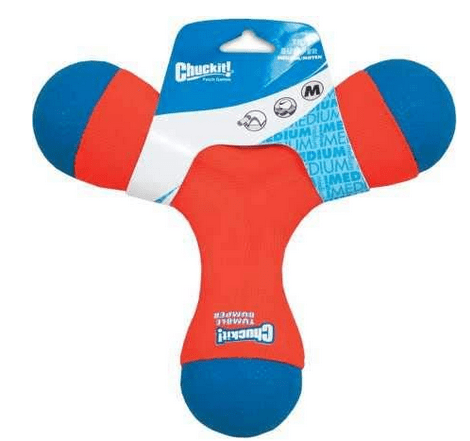 This dog toy was initially designed as a fetch toy. However, it can also be used as a good retriever training bumper. As its building material memory foam, rubber, and sturdy nylon has been used. These materials give the bumper its lightweight and structural rigidity. The bumper stays above the waterline because its weight is around five ounces.
The end cups of this bumper are covered with rubber. For this reason, the bumper tumbles a lot when thrown is a distance. Due to its unique shape, the bumper goes much further than other dog toys. The bumper can withstand dog bites and 100 % chew proof. Due to its durable feature, the trainer can use this bumper for a long time.
The bumper comes with an orange and blue colour mix. The main body of this bumper is orange and its cups are in blue colour. Thanks to its bright colour, finding it in bushes is easy. The bog can easily find it in bushes and murky water. It is a high-quality bumper for retriever training. They always love to play with it.
Sometimes a dog needs a realistic object to understand what is required to retrieve. For this purpose, the floating fish bumper is the best. It is especially beneficial to those dogs that go for a fish hunt. The shape of the bumper mimics a fish shape and its floats on water. With this bumper, it becomes much easier to train a dog for fish hunting.
The bumper is around 9.5 inches long and weighs around 7.7 ounces. It always floats on water. The neon orange colour makes it highly visible and most retriever dogs get attracted to it. The bumper is made from phthalates, BPA, and latex-free material. FDA approves it and the dog doesn't get any allergic reaction from it. The owner can use this bumper in the pool, beach, lake, and riverfront for training.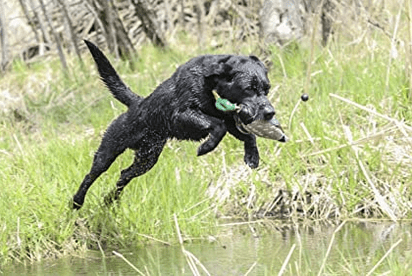 This bumper offers a real feeling of a bird. It is best for bird hunting-related retriever dog training. The dummy mimics the full-body shape of a duck. This bumper can easily train the dog, how to hunt and fetch a bird. The bumper is made from soft material and doesn't cause any harm to the dog's teeth. However, it is also very durable. The dog can chew it all the time and practice hunting.
The bumper is completely waterproof and won't get drown in the water. Unlike other bumpers, it does not produce any foul smell either. With the help of this bumper, the owner can create a realistic scenario for the dog. The bumper comes in multiple shapes of birds like Pheasant, Widgeon, Pintail, Mallard, etc. The owner can use this bumper both indoor and outdoor to train the dog. The bumper also has a small rope behind, which makes it easy to through long distances.
[yasr_visitor_votes]
One request?
I've put so much effort writing this blog post to provide value to you. It'll be very helpful for me, if you consider sharing it on social media or with your friends/family. SHARING IS ♥️