The best thing about dogs is that while they thrive as domesticated pets, they can be trained or they can be naturally participative in your interests. For instance, if you have a penchant for hiking and adventures you can make your experiences more memorable by just having your dog with you. Not only can they cheer you up and energize you when you are feeling a little tired, they also have excellent guidance skills.
However if you are a frequent hiker then you would be required to choose a breed suited to your needs. While dogs in general happen to enjoy an active lifestyle, the rigorous physical demands of hikes may not be fulfilled by all dog breeds. Your companion of choice must be tough in inclement weather, active, and physically not easily worn down. These are the points to keep in mind when choosing your hiking partner:
Weather Appropriateness – To narrow it down, first choose a breed that would be suited to the weather conditions in which you wish to hike. For cold weather conditions you need a dog with a heavy cold-resistant coat, but such a dog would simply not survive in tropical climate.
Energy Level and Personality – For intensive hiking you require dogs who like being on the mood and will genuinely enjoy the activities. Naturally slower dogs would not be able to fulfill this requirement. You also need a bold, confident breed that will look forward to adventures and is street smart.
Built and Body Structure – Some dogs may satisfy the two above needs but may be small in stature or have weaknesses in bones specific to the breed (such as the Rottweiler). You require a sturdy hiking dog that will be able to pull through tough climbs and long exhausting walks.
Age – A much overlooked but extremely important aspect of choosing a hiking dog is the age factor. The dog in question should neither be too young nor too old – they must be at least a year old and in their prime. This will ensure that they are at their best and will be able to handle physical stress easily. This age is not uniform and varies from breed to breed.
Other Factors – It is good if your chosen dog is good at following instructions and picking up cues. In other words, they must be compatible with you. It is not enough for the chosen breed to have dogs with a friendly aspect; they must also be intelligent, trainable and plucky.
Breeds you can take along on your hike
1. The Siberian Husky
Spirited, adventurous, and powerful, the Siberian husky is ideal for all your hiking plans in cold weather.
Advantages
Since they were originally bred in Russia for long distance journeys with strenuous activity, a hike in the cold is a piece of cake for them. They have terrific endurance and are built for exercise and outdoor activities.
They are highly energetic and enthusiastic, and just the little pick-me-up you need for long cold hikes. They are gentle and friendly dogs who are great companions and are sure to keep you motivated in the hike.
Being naturally bred to survive on snowy mountains, these dogs have far more tolerance to cold weather than human beings. This is one aspect of your hike you need not worry about.
They are incredibly intelligent and possess great mental acuity. They thrive when they are faced with situations that make them push themselves, which is ideal in difficult hikes.
Things to remember
The downside to being clever creatures is that huskies are usually fiercely independent regardless of how attached they may be to you. Thus they might be slightly difficult to train to your call and may choose to pursue their own track on the hike. You have to make an extra effort to control them (more so because of their size) till they are trained.
They have an immensely thick coat to protect them from the cold, but this can become a breeding ground for ticks and other bacterial infections. Aside from making sure your dog has all necessary shots before going through rough terrain, be sure to brush and groom them properly after a hike.
Till your husky is well trained and attentive to your gestures, you will require a strong harness specifically built to withstand such physical activities. You can purchase one on Amazon.com by clicking here.
2. The Australian Shepherd
Sharp, athletic, and vivacious, the Australian Shepherd is an excellent choice for a hike companion.
Advantages
They were originally bred as herding dogs and thus they are very obedient and loyal. This is particularly important to ensure your dog does not run off into a wrong direction in the woods when the leash is off.
Being herding dogs, they are well suited to both warm and cold weather conditions.
They excel at all sorts of strenuous activities owing to their agile frame and tenacity. This makes them perfect companions especially in long, difficult hikes.
Things to remember
In order to keep your dog focused and interested in the hike you may have to put in some effort. For this you can come up with ways to make it seem like a game or simply devise a reward system for best results.
If you are unsure about the above then you can read this very informative book on hiking with dogs that you can get off Amazon.com. You can look it up here.
3. Border Collies
Border collies are perhaps the most popular choice of hikers because of how well suited they are for the same.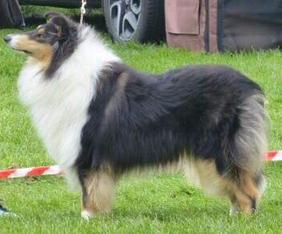 Advantages
Energetic, agile, physically fit, and tenacious – these are only some of the few qualities that set aside Border Collies from any other breed when it comes to hiking. They stay motivated and excited because of their thirst for adventure and activity, and so this breed is a perfect choice.
They are extremely intelligent, trustworthy, and trainable, so much so that you can be sure to acclimatize them to your commands and not even have to use a leash.
Things to remember
As intelligent and inquisitive creatures, Border Collies tend to be curious about all sorts of things and may lead you off trail just to sniff around a new path through the hike. You must be careful to monitor this behaviour till they are completely trained.
Some dogs of this breed tend to be sensitive despite their physical prowess, and it is best to introduce them to your love of hikes well before they are grown up enough to participate.
Border collies have been known to carry some of the weight of the equipments you need themselves. To make it easier on them you can purchase this saddle bag and rucksack on Amazon.com here.
4. The Australian Cattle Dog
As is evident from their name, the Australian cattle dog is mainly used as a herding dog and thus they can be trusted to be friendly, active, and steadfast during adversity.
Advantages
They are suited to both warm and cold climates and thus you can safely take them on hikes to various places.
Because of their agility you are also free to choose from a large variety of topography. They are great hikers in mountains and river valleys alike, and their keen sense of direction makes them invaluable in woody terrain.
Things to remember
This breed is very excitable and may be eager and willing to hike farther than you are. They are naturally better hikers than most people are, and this may be both advantageous and a problem.
Training these dogs thus becomes a challenge and if this is your first time choosing a furry friend to go on hikes with you, you may not want to select this breed.
If you take your dog to hikes in river valleys it is a good idea to make them wear high quality waterproof shoes for extra protection on slippery rocks. You may find one on Amazon.com here.
5. Jack Russell Terrier
The Jack Russell Terrier is the perfect pet for those who could prefer taking along smaller dogs on their hikes.
Advantages
They have very compact bodies and weight only around 17 pounds, so they have the added benefit of being more agile in areas where the terrain is difficult.
They are known for their razor sharp instincts and this is especially helpful while hiking in unfamiliar areas. They are able to steer clear of trouble and can even guide you along if you get lost.
Things to remember
Jack Russell Terriers need to be stimulated both physically and mentally, so training is not enough when it comes to controlling them. You must take time and bond with your dog properly to ensure you can rely on each other in the wilderness.
They do not do too well in extremes of climate and so be sure to take adequate clothing for colder temperatures. A large range of dog sweaters is available on Amazon.com which you may peruse through here.
6. German Shorthaired Pointer
German shorthaired pointers are usually used for hunting, so you can be assured they are an extremely energetic breed like none other.
Advantages
Being a hunting breed these dogs do not tire easily and can cover long stretches of land with you in a day.
They are usually very friendly and compatible with most people, and they adapt easily to circumstances.
They are safe and useful in all terrain and comfortable in most weather conditions.
Things to remember
Because they are predominantly hunting dogs they require a lot of exercise and physical challenges to keep them occupied. Otherwise they may develop a sort of anxiety and restlessness.
It is thus advisable that you choose this breed only if you are likely to have long intensive hikes.
If your German shorthaired pointer is getting a little fussy you can play some calming music created specifically for stressed out pups. A good example of such music can be found here.
7. The Rhodesian Ridgeback
This breed is ideal for those who wish for a companion of a tougher and bigger build.
Advantages
Rhodesian ridgebacks are very stately and composed dogs. They were used to hunt large game in Africa and thus you can count on their physical ability.
They are not particularly affectionate and friendly in general but they bond very well with their master.
These dogs can be especially helpful while scaling heights on difficult terrain.
Things to remember
Training these dogs is sort of difficult because of their detached nature and so you may opt for professional help in this regard.
Socialization is an important part of their behavioural training. It should not be skipped because you need to be completely in sync out in the wilderness where you only have each other to rely on.
8. Bernese Mountain Dog
A beautiful and powerful breed with surprisingly gentle dogs, they make for excellent hike buddies in cold weather.
Advantages
Since these dogs were usually used to drive cattle on the Swiss Alps, they thrive in the cold.
They are quick and sure footed and are completely at home in hilly and mountainous terrain. They are load bearing and can endure long, arduous climbs better than most mountain breeds.
Things to remember
Although they are bred to pull heavy carts, they have been known to suffer from hip bone problems. Clear out their medical issues with the vet before venturing out.
These dogs are prone to developing migraines so you should store some medicine for the same in the first aid kit box you plan to carry with you. A good sample of a handy first aid box on Amazon.com is available here.
Which breeds should I avoid?
It can be safely assumed that medical help will not be readily available on your hike. It is thus best to stick to these known hiking breeds rather than taking your pup on your hike. Most dogs would be willing to accompany their best friend but domesticated pets are usually not up to the task. Always consult a vet before taking this decision.
One request?
I've put so much effort writing this blog post to provide value to you. It'll be very helpful for me, if you consider sharing it on social media or with your friends/family. SHARING IS ♥️