For most pet owners, our pets are not just pets, they are our family. Don't they deserve being treated like family and not left to sleep on a hard floor? We enjoy the comforts of a soft, comfortable bed after a long day. Our pets should have the same luxury, a place to escape to when the world seems dreary. The added benefit is that a dog pet will help keep them safe, happy, and healthy.
These are the Top 3 Dog Beds:
Why I Picked the Sheri Luxury Dog Bed
When you sit down and compare the Shag Faux Fur Donut to the Fur Heaven Plush style sofa bed, the difference is surprising.
The Sheri Luxury offers that fur which dogs love to sit on. Its almost like they are sitting in grass. Fur Heaven is just ok if you want a plain vanilla Dog Bed. Even the donut shape is what something dogs like.
Even though the pricing of both is similar but still Sheri Luxury dog bed is less costlier.
The color and size options in Sheri Luxury make much more sense than Fur Heaven. These donut shaped beds have the premium feel to them.
People do buy and use Fur Heaven dog bed but in our usage, Sheri Luxury dog bed linked above is the one we would always choose.
"I've always thought about buying a good comfortable dog bed. Now I'm definitely going to get one! Cheers for the good advice." – Matt
The rest of this article talks about why a dog bed is needed and what parameter should you consider before shortlisting one.
Consider your Dog's Sleeping Habits
Most of the time our pets are happy to sleep with us or nearby, but it is important for them to have their own space.  Before deciding on the type of dog bed to get for your canine friend, you must ask yourself a few questions. Knowing about their sleeping habits helps you to choose the best bed for their needs and comfort.
What length is their body stretched out?
Does my dog like to stretch out,  curl up, or burrow underneath things?
Does my dog need joint support?
Does their temperature run hot or are they always cold?
Do they prefer to sleep with their toys?
If they sleep in a kennel, will the bed fit correctly?
Do they like to chew?
Because there are hundreds of dog beds on the market,  being ready can increase the odds of finding the right dog bed for your pup.
Why Does My Dog Need a Bed?
Let's take a look at many of the reasons to supply our dogs with their own beds.
Security
A dog bed will give your pet much more than just a place to sleep. Even if they like to sleep on a hard floor most of the time, when they become scared or anxious, such as during a thunderstorm, their own place to go can help calm them down. They are pack animals so a specific place for them to lay their heads would be appreciated.
Comfort
A dog bed is more comfortable than the cold, hard ground. It will give them something soft to sleep in, and insulation to help them stay warm.  Comfort is especially helpful to senior pups.
Protection
Getting your dog a bed can be helpful in keeping dirt, dander, and dog hair off your bed and from collecting on your floors or furniture. People with allergies such as asthma will also benefit from your dog having a dog bed. It can help with keeping any dangerous allergens a safe distance from your friends or family who have such allergies.
What to Consider When Buying a Dog Bed?
Chances are when you decide to purchase a dog bed for your pup,  you'll search several, or dozens of beds before making your decision. When you are ready to make the leap, be sure to consider all of the following before making a final choice.
Dog Size
Have you ever measured your, furry buddy? Well, now would be the perfect time to do it.  By measuring them from the tip of their nose to the tip of their tail, you can be certain the get them the right size bed. A bed that is slightly longer than your dog would be the first place to start. If they want to stretch out, be sure their bodies will fit in the bed.
Activity Level
If you have a dog that is hyper or energetic, you should look for a bed that will hold up to their energy levels. One made out of sturdy materials is a good place to start. Or if your dog is little, or small, they may benefit from a bed that is softer and fluffier.
Dog's Age
As our dog's age, they may have joint ailments like arthritis and muscle weakening, an orthopedic bed will work best for our senior dogs. Whether your dog is a puppy or getting up in years,  age is an important factor in your choices.
Sleeping Habits
How your dog sleeps is something that should also be considered when choosing the right bed. Does your pup like to cuddle, sleep curled up, or stretch themselves out? Do they like to sleep alone or surrounded by their toys? Depending on the size of your dog, if they like to sleep stretched out, you're going to need a bed that is large enough to accommodate their poses.
Budget Friendly
How will this purchase affect your budget? Dog beds can range from $10.00 to hundreds of dollars, be certain that your personal budget will allow for your choice.  Many of the choices available will vary with sizes, price, shape, colors, texture, and the materials they are made of.
The following videos should help you take more informed decision:
Different Styles of Dog Beds
In your search for the perfect dog bed for your pet, keep in mind they come in a variety of choices. Your choice will depend on several of their unique aspects.
Finding the right dog bed is dependent upon your pets needs and your preference. Here are the different types of dog bed available for your dog.
Donut and Bolster Styles
The cushioned base of donut and bolster style dog beds are either round or oval. The sides are also raised to offer a wall around your pet. With this style, your dog can easily burrow into its sides or lean on it for support. The donut or bolster styles can offer your dog a place to lay their heads and rest their necks for support like a pillow would offer. They often help with anxiety and added security for your dog.
Most donut or bolster style dog beds are beneficial for smaller breeds of dogs like Dachshund, Pomeranian, Corgi, Chihuahua, and other toy breeds. These beds can help your toy breed keep warm. Just be careful and make sure that they can navigate the sides without hurting themselves, there are also wall-less options you can choose.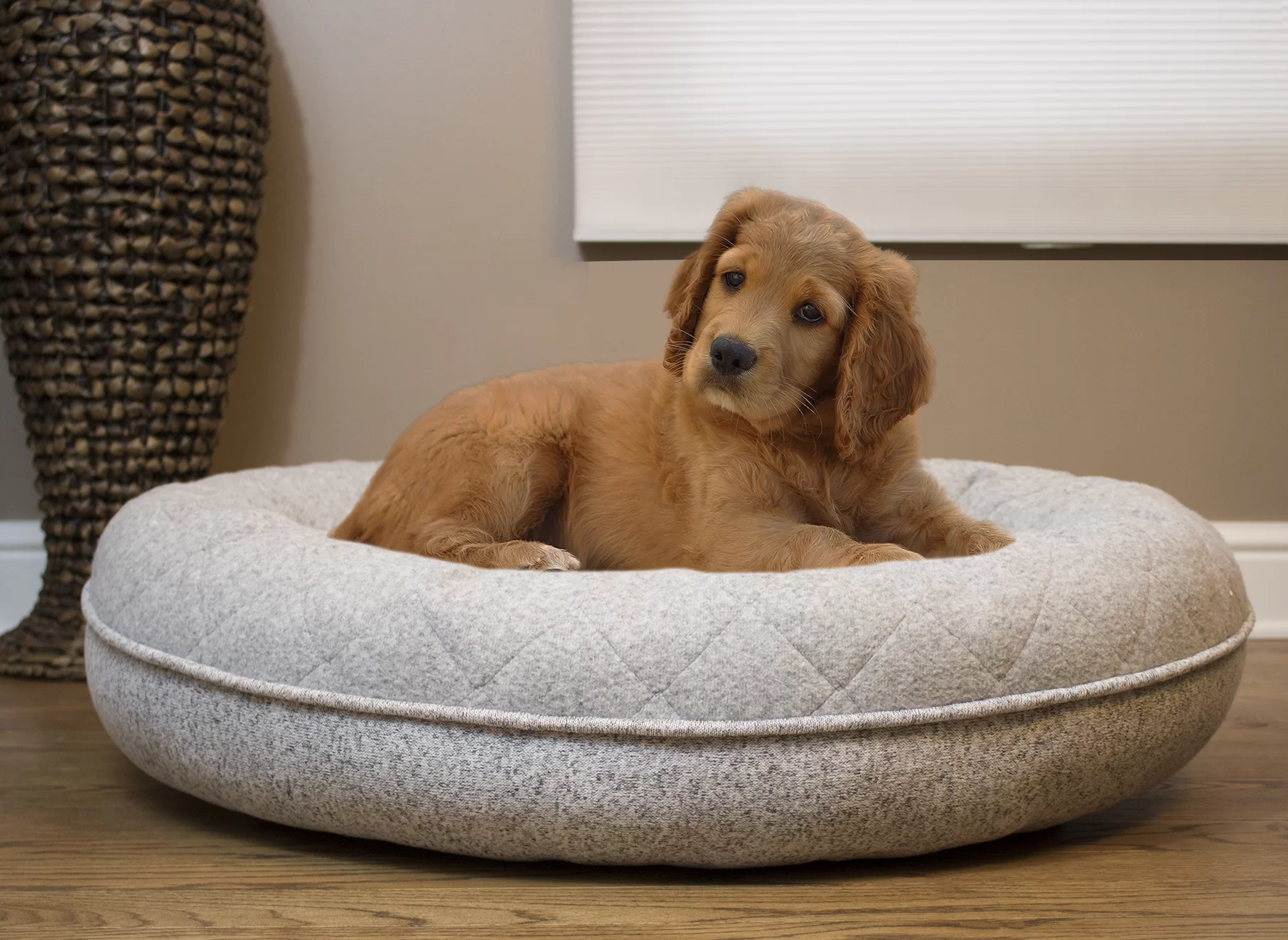 Orthopedic Style Dog Beds
Orthopedic dog beds are often larger than normal sized dog beds and are beneficial for our dogs as they continue to age. They are made to added extra comfort for arthritic dogs and those with joint or muscle problems.
Thinner or bonier pups will benefit from this type of dog bed as it can offer protection for their bones and pressure points. It may also be beneficial for multiple smaller dogs since it can comfortably fit more than one small dog.
Pillow Cushioned Bed
Think of these as the equal to our pillow- topped mattresses. They're shaped like a pillow, small or large. There are no walls on this style bed, it is a large pillow. The pillow design is good if your pet has mobility issues. They also offer your dog the space they need to stretch out all the way. Covers can easily be made or purchased to prolong the bed's life.
Heated Dog Beds
There are heated dog beds on the market for your dog also. These are great for older dogs and just like the orthopedic style they help offer comfort for arthritic, senior dogs. Some smaller dogs may enjoy this style to keep their body heat regulated if they are always cold, like Chihuahuas.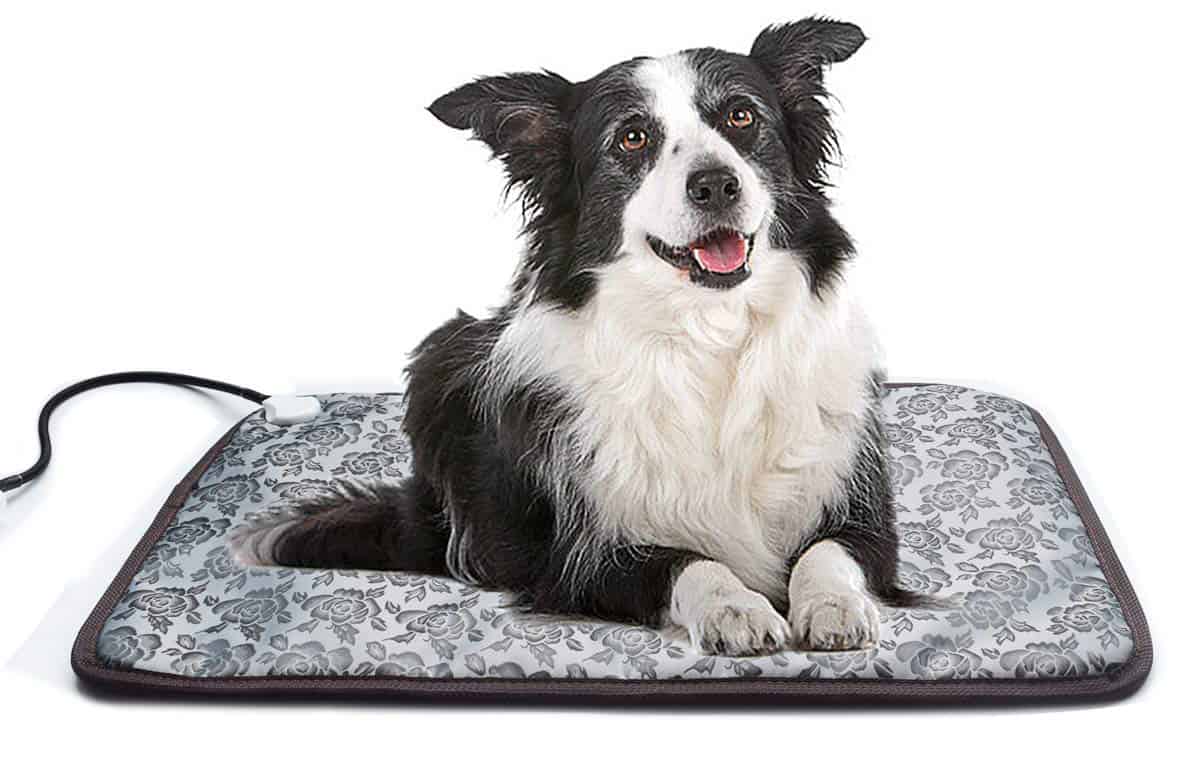 Cot Style Dog Beds
Cot-style dog beds are perfect for outdoor dogs, they are elevated off the ground, as their name suggests. In the cooler months, they offer your dog warmth and can keep them dry. While they are the best for outdoor use, they can also be used indoors and elevated off of the floor.
A cot style dog bed works well with rain and snow, protecting your dog from the wet rain or snow. This style bed is often made with a waterproof fabric that helps it survive longer in the outdoor weather elements.
How to Care for Your Pet's Bed
Now that the hard part of finding the perfect bed for Fido is over, now you need to keep it clean and taken care of for them. Many dog beds offer covers for them, or you could make one yourself. When its not in use, keeping it covered with a removable, washable cover will make cleaning it much easier. Most covers and beds will come with a tag that gives you cleaning instructions.
Another important thing to remember is to shake it out periodically and before washing, since dogs sometimes like to hide their treasures where they sleep, bones and toys are not recommended for your washing machine. Shaking the bed will also help remove hair and dirt that collects in and on it.
With the consideration of everything, we've noted for you, finding your best pal's new dog bed should be an easy feat. By understanding your pet's specific needs, you can be certain that you will find the perfect dog bed for your dog. After all, keeping them healthy, happy, and showing how much they are loved is the goal of a pet parent.
Did you find the information provided here helpful? We'd love to hear from you in the comments below!