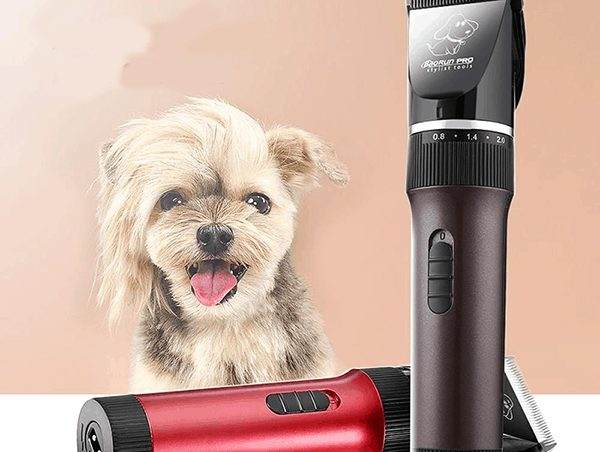 To state the obvious, human beings have hair, and dogs have fur. Every six weeks or so humans will get their hair cut and groomed, but dogs need human help. For this reason,  professional groomers and dog owners will search for the highest quality dog clippers to care for their pet's fur.
Can you imagine having thick fur all summer long that hasn't been groomed? You would be miserable and uncomfortable, it wouldn't be fun for you, so why put your pet through it? By purchasing professional grooming tools, you can help your dog enjoy the hot season without being weighed down by heavy,  thick fur. Dogs have the right to look good and stay comfortable just as well as humans do.
These are the Top 3 Dog Hair Grooming Clippers:
Why I Picked the WAHL Lithium Ion Cordless Dog Hair Clipper
When you sit down and compare the WAHL clipper to the Bousnic or oneisall, the difference is surprising.
Just by taking a look at WAHL clipper from the link given above, you will notice better quality in WAHL than Bousnic or oneisall.
This one is made in USA as said on their amazon listing also. A company of the level of WAHL will never let their customers like yourself down by using poor quality materials in their product.
When I used it, the noise level was quite low and my dogs were feeling very comfortable and they never frightful.
1 charge is good for 2 hours of usage time which is so good, you can do multiple sessions of hair trimming with just 1 charge.
The comprehensive guide we offer will help answer any questions you have about the type of grooming clippers you should invest in for your dog. Does rotation matter? What type of blades should they have?  Which ones are the quietest? Which ones are best for certain breeds? Does size matter?
We hope to answer these and any other questions you have about professional pet grooming clippers. Our goal is to give you the knowledge you need to choose the product that is best for you and your pet.
Two Categories of Professional Grooming Clippers
An important factor of professional dog grooming clippers is often their rotation speed per minute. Their rotations per minute are what helps with the smooth grooming of coarse fur, matting, or knots. For this reason, clippers fall into two different categories, single speed, and variable or multiple speed.
Single speed clippers
Single speed clippers are beneficial for amateur or novice groomers. They do not heat up as quickly as variable speed clippers do. Higher heat might become uncomfortable for groomers and pets alike.  Single speed clippers do not rotate as fast either since they are set at one constant speed. They are less expensive than variable speeds, and they can be found with a cord or cordless. The preference is up to their users.
Variable speed clippers
Users of variable speed clippers will enjoy the functionality and versatility of this category of clippers. Variable speed clippers are costlier than single speeds, but they will give your pet a better grooming experience and make their fur look much smoother and fresher. The blades on variable speed clippers speed up or slow down depending on user preference. They also come with or without cords.
Characteristics and Features of Professional Grooming Clippers
As well as the information we've already shared, many other features are available to  help you in deciding on the best professional dog clippers for you and your dog. Let's examine the rest of the features and characteristics.
Speed and Power of the Motor
Pet coats differ frequently, some are coarse and thick, others are smooth and fine, and yet others are long or short. The speed and power of the motor that clippers have also differ. Grooming clippers are judged by their RPM's, Rotations per Minute,  for pet grooming. If your pet has thick, coarse fur, the clippers with multiple speeds is more beneficial than those products that work at one constant speed only.
Professional clippers are meant to keep the cutting simple and painless for your pet, giving their coat a smooth, clean look, no matter the texture of their coats. This is judged by the RPM's in the clippers being used.  Keep in mind that the highest quality clippers will heat up faster, rotate faster, and there is more noise and vibrations in higher quality tools. What it boils down to is simple: those clippers with a higher rotation will work better than clippers that have slower rotations and are not adjustable.
It is not unusual for a professional groomer to have both types of clippers, quiet and noisy.  Trimming in bulk is easier done with the higher speed clippers, but precision can be accomplished with the quieter clippers and lowest speeds. If you are an amateur user, purchasing the higher quality clippers will give you the same results.
A word of warning to consider is that the faster clippers can heat up rapidly and cause some discomfort to you and your pet and the noise may also make your pet nervous. You know your pet the best, so base you decision on those factors also.
Noise, Heat, and Vibrations
As mentioned above some professional grade clippers will be nosier, heat up faster, and vibrate much more than constant speed clippers. In case you are wondering, the higher quality clippers may not always be the best choice for you for the reasons listed below.
Vibrations increase with variable speeds.
They heat up quickly, may cause discomfort for your pet or your hand.
The noise level will agitate some pets.
The ideal clippers for your pet should be easy to handle, be quieter, have less vibrations, stay cool for longer, and give your pet's coat a smooth, even finish without harming them. Be sure to research all of the available products before making a decision.
Consider the Size and Weight of the Clippers
Consider the size and weight of the clippers you're interested in purchasing. Because of the long periods you may have to hold onto them, a lighter pair that isn't very large may be your best choice. Light weight clippers can also help you to groom more efficiently, especially  if you have multiple dogs/clients to work on. Moving around the animal you are grooming will also be easier with lighter weight clippers. When choosing light weight grooming clippers, keep in mind that oftentimes the lighter the weight, the more you and the pets will feel the vibrations.
Cordless or Corded Grooming Clippers?
Most of the time this choice will be dependent upon your personal needs. We will take a look at the pros and cons of both types of clippers. Remember, the choice is yours, there is no right or wrong type to use.
Pros of Cordless Clippers
Convenient to work with
Portable
Better for hard-to-reach spots
Cons of Cordless Clippers
Slower, works best with soft coats
Batteries do not last long
Frequent battery charging
Pros of Corded Clippers
Faster, and work on most every type of coat
Works at a constant speed
No battery drainage
Cons of Corded Clippers
Will not work without the cord
Cords may get in the way when working
Importance of Dog Clipper Blades
The blades included in grooming clippers are perhaps one of the most important aspects to consider when purchasing them. Just like razors for humans, dog clipper blades can either be interchangeable or specific to the type of clippers you use.  The interchangeable blades can be purchased almost anywhere, but there are specific blades that must be used in certain clippers and are only available from the manufacturer.
Grooming clippers with interchangeable blades are also less expensive. An important factor to keep in mind is that many of the best quality clippers for groomers will come with specifically designed blades for their products. Some blades, depending on how frequently they are used, may require you to change them more often also.
Only Use Recommended Oils
The type of oil you want to purchase to use on the clippers can be found on the manufacturers website or in the instructions that come with the product. Be sure to read and understand the information given before using the clippers. Only use the oil that is recommended for your clippers.
Oiling the teeth and blades correctly and when needed will increase the longevity of the clippers as well as keep them in tip top shape to groom your pets coat without any problems.
Frequently Asked Questions
Are dog clippers different from human clippers?
Yes.  
Dog clippers are manufactured with certain factors in mind, blade coolness, rotations per minute, noise levels, and vibration levels. Dogs often dislike loud noises or heavy vibrations. The goal is to make pets as comfortable as possible when they are being groomed.
Human clippers can cause discomfort to pets since they are not designed to cater to certain aspects of fur like thickness, coarseness, or length.
Why are my clippers not cutting?
Most likely the clippers are not working due to:
Dull blades
Dead batteries
They are dirty inside
Or the motor is in need of repair
Dog clippers must be maintained regularly in order to continue to work properly. Instructions that came with your product can offer insight into many problems that may arise when using the dog clippers.
Do dog clipper blades need to be sharpened?
The blades of your dog clippers need frequent maintenance after each use to ensure they are clean and ready for the next use. Be sure to read the instructions that come with your clippers for how to maintain them to increase their life span and quality.
There are also a few different types of blades to consider when purchasing dog grooming clippers. Many groomers prefer to use titanium blades, but there are also steel blades and ceramic blades available. Each of them have different advantages.
Ceramic blades will keep their sharpness longer as well titanium blades but both are more expensive. However, steel blades are cheaper, but may not keep their sharpness as long as ceramic and titanium and they tend to heat up faster. All three types are available, be sure to check with the manufacturer for what they recommend for their different products.
Even with infrequent use, dog clipper blades should be sharpened and oiled regularly according to the manufaturers recommendations.
How long do dog clippers last?
This will depend on the quality of the clippers,  as well as how often they are used. Regular and proper maintenance will also help increase their lifespan. With all the different parts that are included in the manufacturing of dog clippers, there are several that can break down after time and frequent usage. If your budget will allow, the more expensive ones often have a longer lifespan than cheaper models.
Again, much of this will depend on your personal needs. If you have one pet that doesn't need grooming much, you many want to consider the less expensive products. However, if you are a professional dog groomer with many clients equaling more frequent usage, choosing higher priced items will be more beneficial for you.
Why do dog clippers get hot?
The motors in dog clippers rotate at very high speeds. Due to the friction of the motors rotating so fast, just like with an automobile, they emit a lot of heat when being used. During the cutting of a pet's coat, the blades touch themselves also causing them to heat up.

Clippers do not heat up as much when only used for a short period, but when used for a longer duration, they will heat up faster. Professional clippers may heat up quicker but they also dissipate the heat faster.
What are the most popular brands of clippers?

Professional dog groomers often have a variety of clippers to use on their clients. The most popular ones on the market include, Wahl, Oster, and Andis. All three companies have extensive knowledge of their products and have been used by people for many years. No one company is any better than another, the choice is up to the consumer, depending on what they are in the market for.
Regarding, how to best use the hair clippers with your dog, the following videos will help you out: